There are two main types of wireless charging methods for electric vehicles.
This article refers to the address: http://
One is the principle of electromagnetic induction, yes, it is the electromagnetic induction of junior high school physics. The principle is very simple, but relying on this principle for wireless charging, it is a matter of recent years. Mobile phones such as lumia 920 only took this technology in 2012. Formally introduced to the mobile phone industry. It is to use this principle to achieve wireless charging, but this method has the biggest disadvantage is that because of the electromagnetic coupling relationship, the requirements for wireless charging are more stringent, and it is necessary to consider whether the two coils are aligned, the distance between the two coils, etc. . Although there are so many shortcomings, it is this aspect that has made great progress and achievements at present, and the QI standard has also been formulated. For electric vehicles, wireless charging is now being implemented instead of the well-known Tesla. Evatran of the United States used this principle to provide wireless charging equipment for the 2014 Nissan NISSAN.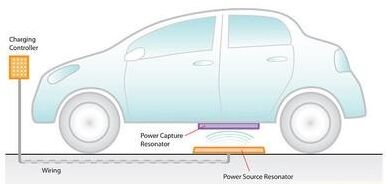 The other is the principle of magnetic resonance. Simply put, the receiving coil and the transmitting coil are at the same resonant frequency to transmit energy. This method has disadvantages and advantages. First, the advantages are that the most accurate is not required, and theoretically the coil distance can be large (actually The most successful southeastern university in China has developed a maximum of 50cm. The disadvantage is that it needs to protect the frequency. In fact, the comparison knows that magnetic resonance is more suitable for car charging, and it is also actively researching this piece at home and abroad. Southeast University is currently the most successful in China, and the WIT-3300 developed by WiTricity has been used in foreign countries.
In fact, at present, the wireless charging of cars has just started, and it is still not practical in terms of practicality. The main reasons are as follows:
1. The cost is expensive. Evatran's plugless price is basically 5-6 times of wired charging, and currently wireless charging is only one step less than wired charging, and the weather of lightning should not be charged. In contrast, the road to wireless charging is still a long way to go.
2. Lack of industry standards. This is simple, just getting started, each company does not do the same, you can't have a car with a special wireless charger, and the difference between wired charging and charging is not big. To achieve a charger, you can give multiple cars. Charging is the future direction of development.
3. It is necessary to eliminate people's panic about electromagnetic radiation. Many people now believe that cell phone radiation is carcinogenic, so it is not scary to see such a large electromagnetic device.
Although wireless charging has a long way to go, the development prospects are favored by the industry.

Paddy Destoner Machine,Automatic Rice Mill,Fully Automatic Rice Mill Machine,Paddy Gravity Destoner
WOSENS TECHNOLOGY Co., LTD , https://www.wosenstechnology.com