Recently, a light bulb called NanoLight appeared on the foreign fundraising platform Kickstarter. The light bulb has quite a cubist style. Look at the shape, like a light bulb model made of paper material.
It is understood that NanoLight bulbs are available in black and white, three models: one is 10 watts, can produce a lighting effect of a fairly 75 watt incandescent bulb, 120 lumens per watt; one is 12 watts, equivalent to 100 watts of incandescent The lighting effect of the bulb is 1600 lumens per watt; the other is 12 watts, which produces 1800 lumens.
It is worth noting that the NanoLight bulb design is quite ingenious. It uses a circuit board with LEDs to fold into a light bulb. The bulb is no longer arc-shaped, but several cross-cut planes, which not only can emit light in all directions, but also saves it. In the past, the outer casing of the bulb, because the shape was a folded circuit board, did not require heat dissipation. As a result, overall manufacturing costs and environmental pollution will be reduced. Gimmy Chu hopes that their products will achieve 100 watts of LED smart lighting and become the world's most efficient and lowest energy bulb.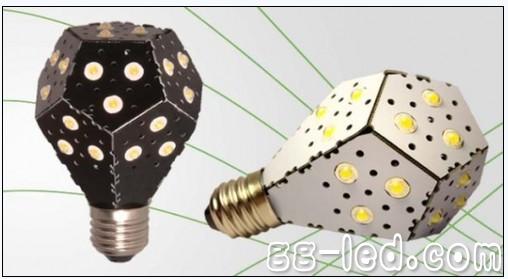 Their fundraising campaign at Kickstarter will end on March 8 this year, and the first batch of light bulbs is expected to be shipped out in May. Although this small light bulb is not expensive, the price ranges from $30 to $50.

PVC Insulated Cable (Wire)
1. Product standard
The product is manufactured according to the standard of GB5023-1997 and JB8734-1998 or IEC, BS, DIN and ICEA upon request.
2. Application
The product is suitable for use in power installations, fixed wiring or flexible connections for electrical appliances with rated voltages up to and including 450/750V respectively.
3. Operating characteristics
Rated voltages of Underground Cable U0/U: 450/750V.300/500V and 300/300V.
Max .Permissible continuous operating temperature of the conductor:
227 IEC 07 (BV-90) 90℃
227 IEC 08 (RV-90) 90℃
For other types 70℃
The ambient temperature under installation should not below 0℃
The bending radius of cable:
D≤25mm ≥4D
D>25mm ≥6D
(D-Diameter of the cable )
4. Type and Designation:
Type:
227 IEC 01(BV), 227 IEC 02(RV), 227 IEC 05(BV), 227 IEC 06(RV), 227 IEC 07(BV-90), 227 IEC 08(RV-90), 227 IEC 10(BVV), 227 IEC 42(RVB), 227 IEC 52(RVV), 227 IEC 53(RVV), 227 IEC 74(RVVYP), 227 IEC 75(RVVY), BV, BLV, BVR, BVV, BLVV, BVVB, BLVVB, RVS
Designation:
227 IEC 01(BV): Single-core non-sheathed cable with rigid conductor for general purposes
227 IEC 02(RV: Single-core non -sheathed cable with flexible conductor for general purposes
227 IEC 05(BV): Single-core non -sheathed cable with solid conductor for internal wiring for a conductor temperature of 70℃
227 IEC 06(RV): Single-core non -sheathed cable with flexible conductor for internal wiring for a conductor temperature of 70℃
227 IEC 07(BV-90): Single-core non -sheathed cable with solid conductor for internal wiring for a conductor temperature of 90℃
227 IEC 08(RV-90): Single-core non -sheathed cable with flexible conductor for internal wiring for a conductor temperature of 90℃
227 IEC 10(BVV): Light PVC sheathed cable
227 IEC 42(RVB): Flat non-sheathed flexible cord
227 IEC 52(RVV): Light PVC sheathed flexible cord
227 IEC 53(RVV): Ordinary PVC sheathed flexible cord
227 IEC 74(RVVYP): Oil-proof PVC sheathed, screened flexible cable
227 IEC 75(RVVY): Oil-proof PVC sheathed, non-screened flexible cable
BV: Copper conductor PVC insulated wire
BLV: Aluminum conductor PVC insulated wire
BVR: Copper conductor PVC insulated and sheathed round cable
BVV: Copper conductor PVC insulated and sheathed round cable
BLVV: Aluminum conductor PVC insulated and sheathed round cable
BVVB: Copper conductor PVC insulated and sheathed flat cable
BLVVB: Aluminum conductor PVC insulated and sheathed flat cable
RVS: Copper conductor PVC insulated twisted flexible cord for connection
PVC Single Core Cable,Building Flat Wire,Flat Building Wire,Electrical Cable Wires,Underground Cable
Huayuan Gaoke Cable Co.,Ltd. , https://www.bjhygkcable.com